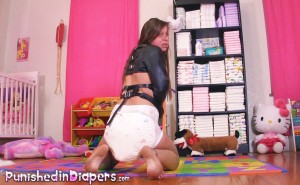 What a HUGE mess little Zoe makes in her diaper! And she is SO humiliated by her mess!!!
Zoe's been a bad little girl and is now being punished. She's locked into a straitjacket and really wanting out. Too bad. She hasn't been punished nearly enough yet.
Natalia tells her this is only the beginning of her punishment. "Turn around and bend over."
Zoe whines so much but follows orders. "What are you doing?"
"I'm giving you a mini enema," Natalia tells her. Then she really protests!
Before long the mini enema takes effect and soon enough, she can't hold in her poo any longer.
And it's a LOT!!
Download Pictures zip (14 pictures)
Download Video in iPhone/Android/etc format