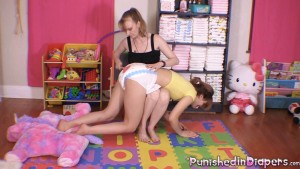 Abby is full of attitude!
Well, Natalia's not going to take that at all! Abby's wanting to be changed out of her messy diaper but Natalia doesn't think she deserves it yet. Not with that attitude! Instead, she gets bent over her knee and spanked with a rubber spatula. Not only that but she gets her mess rubbed right in beneath her diaper.
She'll learn her lesson.
Download Pictures zip (8 pictures)
Download Video in iPhone/Android/etc format