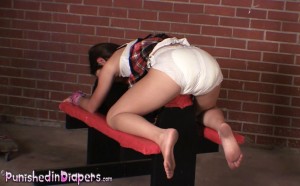 Naughty little Nikki has been given suppositories and is trying so hard to endure the pangs and not mess her diaper.
"Hold it!" The mean Sister Natalia orders her.
"I am!" Nikki exclaims.
But then she can't hold it any longer. It comes sliding out of her bum and into her diaper!
"Are you pooping?!?" The nun confronts her.
No answer.
"I can smell that!" The nun is VERY unhappy that Nikki couldn't control her bowel movements like that. Now she has a very yucky mess on her behind.
Sister Natalia squishes it all into her and spanks her diapered bottom. And this is just the beginning…
Download Pictures zip (14 pictures)
Download Video in iPhone/Android/etc format