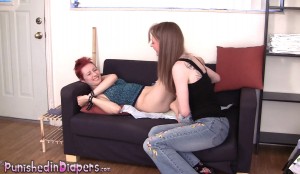 Orias has fully wet her diaper to its full capacity. Not an easy task with such a think absorbent diaper! Natalia finds little Orias like this and she is so humiliated! She doesn't know anything yet though.
Natalia teases her relentlessly for being so wet. Poor little baby is such a huge, wet diaper!
As if Orias wasn't humiliated enough Natalia bends her over her knee and starts to give her a really good spanking! Orias cries out! What a little baby!
Once Natalia's satisfied that Orias received enough punishment she tells Orias that she'll change her out of her wet, leaky diaper.
Orias is so relieved and eager to get out of this soaking wet diaper. But Natalia's not going to make it so easy for her. She must endure some more of what she's dishing out.
But Orias does end up getting her diaper changed. Although this may be the most humiliating diaper change to ever have happened! Natalia doesn't take it easy on her at all.
Download Pictures zip (23 pictures)
Download Video in iPhone/Android/etc format