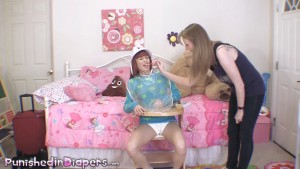 Lizzy may have signed up for the all-inclusive vacation but she was sure not expecting this! She wasn't wanting to be treated like a baby at all! And she's sure not enjoying this!
But, alas, here she is. She's on her vacation that's turned out to be a vacation from adulthood. And now her host is going to be giving her her meal time – of baby food!
Her host locks her into a high chair and starts feeding her baby food. Not only that, but she's spoon fed it with a baby spoon! And Lizzy finds this just plain appalling. Not only being treated like a baby, but the baby food is NOT GOOD!
But then her meal is polished off with a baby bottle which turns out to be spiked with castor oil. WHAT??? This is NOT what she signed up for at all!!
But she did…
Download Pictures zip (16 pictures)
Download Video in iPhone/Android/etc format