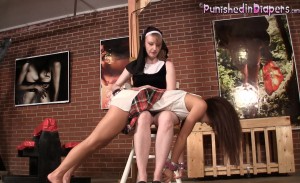 Little Nikki has messed her diaper! She was supposed to learn control but apparently she hasn't. Now she's gonna get punished for it.
Sister Natalia drags her from the spanking bench over to a chair she has waiting for her by the ear. She's gonna get it now! Natalia bends her over her knee and starts to spank her with the back of a large hairbrush. OW!
Nikki cries and whimpers as the Sister administers her messy diaper punishment. Nikki hates this so much! Not only does it really hurt but it's squishing the mess right into her diapered pussy and it's so gross!
The Sister makes little Nikki sit in her messy diaper afterwards – not just squishing it in but her little gushy is so sore!
Download Pictures zip (9 pictures)
Download Video in iPhone/Android/etc format