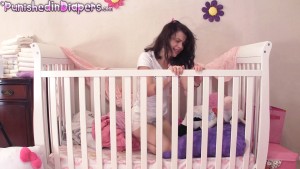 Emily's punishment is far from over.
Little schoolgirl Emily wakes up from her slumber and finds herself in the crib. Turns out it wasn't a nightmare after all! She just can't believe this is real!
It is.
But Natalia's got a "treat" for her! A suppository!
She makes Emily bend over as she shoves it up her little diapered bum. Emily shrieks as it gets shoved deep inside her and whines as it takes effect. She's so upset!
Just wait…
Download Pictures zip (14 pictures)
Download Video in iPhone/Android/etc format