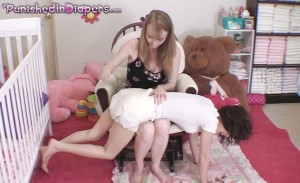 The little schoolgirl Emily's punishment continues!
After pooping in her diaper while in the crib she's finally let out. But she's not getting changed yet. Oh no. Instead she's bent over Natalia's knee and spanked! Right over her messy diaper. It gets smushed in and rubbed all over, getting into all her yucky spots.
More spanking and more spanking. Emily cries as she gets teased! Will this never end?
Download Pictures zip (12 pictures)
Download Video in iPhone/Android/etc format