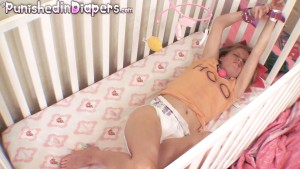 Alyssa's being such a little brat! Apparently being cuffed inside the crib isn't nearly enough punishment for her. Time to take it up a notch.
She gets a suppository shoved up her ass. And it's not going to have a positive effect on her.
Natalia leaves to let Alyssa do her business. And Alyssa's stuck inside the crib and has to mess her diaper. Once her diaper is full of her own poop she really wishes she could get out of the crib and into a fresh diaper. But that's sure not happening.
And it only gets better from there…
Download Pictures zip (23 pictures)
Download Video in iPhone/Android/etc format