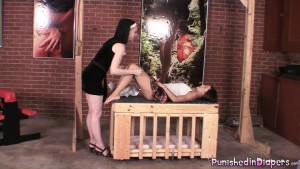 Little schoolgirl Nikki has been very naughty. She had an accident in class and wet her panties. Now she's sent to the dungeon for retraining. She has to learn to restrain herself!
Now she's gonna have to stay in the dungeon with Sister Natalia for the next two weeks! And just to make sure she doesn't have any more accidents she must wear a diaper for the duration of her stay here.
Nikki is so humiliated! She doesn't want to wear a diaper! And for two weeks?! How embarrassing!
Sister Natalia pulls off Nikki's panties and puts a diaper on her. She's told that she better not wet or mess it. She must learn to hold it in properly like a big girl.
Nikki argues. Is this really necessary?? Does she really have to??
Yes. She does. And this is just the beginning of her retraining.
Download Pictures zip (9 pictures)
Download Video in iPhone/Android/etc format