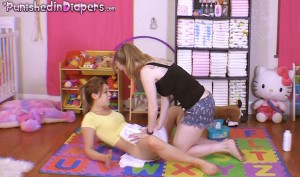 Abby has been sent to Natalia, a professional punisher, for some retraining by Abby's boyfriend. Apparently he called Natalia when his girlfriend's choices in attire has gotten completely out of control. She just keeps dressing like a total slut!
Natalia's glad to take on the case. When Abby shows up Natalia explains to her that she is going to go through a retraining process. And she's going to go all the way back to the beginning. Back to when she was in diapers. And she's going to be retrained to grow up properly this time.
Abby is quite resistant. She thinks this is all so ridiculous and a total joke. But she quickly learns that Natalia is very serious.
Natalia makes her strip down and puts a diaper on her. Complete with baby wipes and a baby diaper. Natalia chooses the new Bambino cloth/plastic hybrid prototype diaper for her. The babyness of it is just perfect for this little slut.
Abby has no idea what's coming for her…
Download Pictures zip (12 pictures)
Download Video in iPhone/Android/etc format