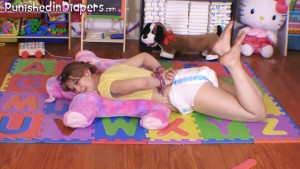 Uh-oh. Seems the massive overdose of ExLax that Natalia made Abby take earlier has finally taken full effect! And she's not in the best position for what's about to happen.
Abby has been handcuffed and left on the floor when she realizes that messing her diaper is imminent and there is nothing she can do about it. She begs, she cries, she messes. A really huge mess at that!
This. Is. Humiliating.
Download Pictures zip (18 pictures)
Download Video in iPhone/Android/etc format